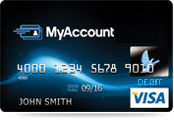 Step 1: Get your card now!
Sign up is easy and approval is 100% guaranteed.* Welcomed at millions of locations where Visa debit cards are accepted and at millions of ATMs worldwide. *Subject to ID verification
Step 2: Enroll in Direct Deposit
Save time, money and hassles - enroll in direct deposit by completing a direct deposit form and providing it to your employer or benefits provider. It's simple, safe, secure and can eliminate check cashing fees! Learn more
Step 3: Shop, pay bills, get cash
Shop anywhere including online, get cash at ATM's and participating retailers, or pay bills. Track your spending and use your Visa prepaid card to budget. Take control of your money by using your MyAccount Visa Prepaid Card. See where you can use your card.
How it Works